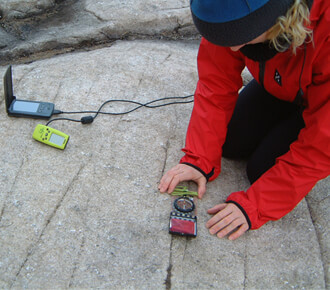 We have highly skilled staff (around 75% with PhD, 25% MSc/MSci/MEng) who take pride in delivering the best result possible in all our projects.
We invest heavily in research and development to improve our innovative methods for acquisition, visualisation and analysis of geospatial data, and to make them as stream-lined and cost-effective as possible for our clients. 
By maintaining close ties to Durham University and other research partners, we are ideally positioned to transfer the latest developments from academic research into your commercial projects.
While we have close links with Durham University, GRL is an independent commercial business entity. We always aim to meet the highest possible standards set by our commercial clients. Security and confidentiality of your data is an important business issue for us.
We want to develop a close relationship with you to understand the nature of the challenges you are facing, and your requirements and expectations in tackling these.
We draw on our geoscience experience from around the globe to formulate the most cost-effective strategy to meet your technical needs – although we are at the forefront of innovative applications of geospatial technologies, we spend as much time with a tape measure and compass-clinometer as we do with a $100k lidar laser-scanner.
Ultimately, we know that every project is different, and every client's needs are unique. We're in for the long haul: we want you to come back to us again in the future.
We run a range of training courses & field excursions aimed at workers in the energy industries. With a strong focus on field examples, hands-on exercises, case studies, and integration with the sub-surface, our courses are designed to promote easy assimilation of complex concepts.
Led by internationally renowned experts, courses include both ongoing CPD training in structure and tectonics, as well as bespoke workshops for multi-disciplinary asset teams with interests in specific technical areas or geographic regions.
Current course partners include GeoLogica and RPS Energy (Nautilus), as well as university academics and private consultants.